A feast of activities for the whole family....
Kvarner offers everything you need for a great holiday: mountains, historic sites and excellent dishes. Also the most beautiful islands and cities of Croatia!
Mountains, seaside resorts and islands
Kvarner is located at the foot of the highest mountain in Istria, Ucka (1398 metres). Here you will find the fabulous Abbey with the elegant promenade and the islands of Krk, Cres and Pag. The mountain range acts as a natural protection against cold drafts, making the Abbey famous as a centre of wellness. Along the coast and on the islands you will find lush greenery, the perfect place to try some walking or cycling!
Read more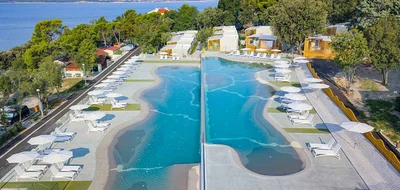 add_circle
Diving possibilities nearby
add_circle
Small on-site children's playground
add_circle
Campsite close to turquoise blue crystal clear water
add_circle
Stroll through Selce and enjoy your free time
done
June 22 -
7 nights,
2 adults
done
June 22 -
7 nights,
2 adults
1
accommodation types available
Kvarner scampi
The islands are easy to reach by ferry. The island of Krk(Veglia), full of beautiful bays and beaches, is easily reached by a bridge that connects the island to the mainland. Kvarner, besides beautiful landscapes, offers the finest seafood in the Mediterranean, Kvarner scampi.