Fresh air in Trentino...
Trentino is the sunniest region of Northern Italy with the extraordinary beauty of the mountains, lakes and tranquillity.
Read more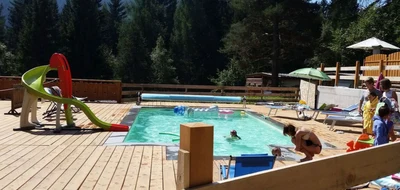 add_circle
In the beautiful Dolomites
add_circle
Picturesque Bellamonte within walking distance
add_circle
Water fun in the heated pool
add_circle
Dancing, playing, running round... the children love it here
done
March 4 -
7 nights,
2 adults
done
March 4 -
7 nights,
2 adults
3
accommodation types available
Nature
The Trentino region expands from the Dolomites to Lake Garda. The Dolomites are considered by some the most beautiful mountains in the world and are included in the list of World Heritage Sites. It is a land of passage where you encounter different cultures and Trentino relives it's past in different villages and traditional cuisine. For lovers of outdoor sports there are numerous trails and paths.
Warm lakes
If you prefer a relaxing holiday in the sun this is also possible in Trentino. 'Caldonazzo' and 'Lake Levico' are the warmest lakes in Central and Southern Europe. With an average temperature of 23 degrees you can practice many sports: swimming, sailing, boating, windsurfing and water skiing. The beaches slope gently and are ideal for children. These regions are also full of shops and restaurants.