1
accommodation available
Book with confidence
done
1000+ Campsites and Holiday Parks
done
Lowest Price Guarantee
done
Safe Booking (SGR Protected)

Distance to
Number of pitches
Closest City
WiFi
Barbecue allowed
Benefits

Within walking distance of the beach

Bars, restaurants and shops
Presentation of camping Cambrils Park Resort
Only one word is required to summarise Camping Cambrils Park; Wow! In and around Cambrils Park Resort you will find everything you need for a fantastic holiday.
A beach within walking distance with golden sands for tanning and building sand castles. A great swimming paradise with beautifully designed swimming pools for every age. Sports enthusiasts can work up a sweat during a game of football, volleyball or tennis and peace seekers can relax completely during a nice treatment in the spa. And you don't have to leave the campsite for a message; bakery, supermarket, souvenir shop ... it's all on site! Surrounded by a wealth of plants, trees and flowers, this resort is a feast for the eyes. And to top it all off, super nice tourist destinations are just around the corner, such as Cambrils and Salou.
Beautiful swimming paradise with slides and pirate ship
Camping Cambrils Park has plenty of swimming possibilities, with no less than 4 different zones! Swimming pool 'Caribbean Port' is a favourite spot among children. Full of adventure with a large pirate ship and another part with the tranquility of waterfalls and water jets. Especially for the little ones there is the 'Caribbean Jungle' swimming pool. Full of colours and lifelike animal figures. The spectacular elephants provide the perfect setting for an unforgettable family photo. In the 'Mediterranean beach pool' swimming pool you have two white sand coastlines where you will find hammocks and parasols, just below the lighthouse and with the charm of traditional fishing boats around you. And last but not least, swimming pool 'Polynesian Sea', in the centre of the resort and therefore close to almost everything, you can enjoy a refreshing drink in the bar in the middle of the swimming pool, while sitting in the water on your bar stool. This is guaranteed to provide the ultimate holiday feeling!
Great food and sports & relaxation
Eating; an essential part of a relaxing holiday…. At the bakery you can buy freshly baked sandwiches and in restaurants La Masia and El Pescador you sit down for a tasty meal. In the centre of zone La Mediterrània is the playground where the children can play safely, because the park is car-free! Everyone can have fun in the sport zones; so many activities and there is plenty of animation. Volleyball, fitness, soccer or tennis and for the kids mini golf or show jumping skills on the trampolines. Take care of yourself, because you are on holiday too. Ease away the last remains of stress with a relaxing massage in the spa.
Salou, Cambrils and Tarragona
Take the bus to Cambrils Port or walk to the centre of Salou via the beautiful boulevard full of shops and restaurants. Or spend an afternoon full of adventure in the theme parks and water park of PortAventura World. Did you know that PortAventura has the highest and fastest roller coaster in Europe since 2017?! A day in Tarragona is also a must. This historic city has Roman remains and a significant part of the original city wall is still standing. The amphitheatre dates from the 2nd century and in the National Archaeological Museum you can learn all about the rich history. Want to visit another nice city? How about Barcelona! Just over an hour's drive from the resort .
General

Barbecue allowed

Languages spoken

Dutch

English

French

German

Spanish

Number of pitches

Suitable for

Babies and toddlers (0-4 years)

Children (5-11 years)

Closest City
Number of pitches

500 - 999 pitches
Distance to beach

250 mtr - 1 km
Swimming pool

Outdoor pool

Indoor pool

Separate children's pool

Bathing cap not mandatory

Swimming shorts accepted
Facilities

WiFi

Playground

Trampoline / Bouncy castle

Bike rental
Sports facilities

Tennis

Multi purpose sports ground

Fitness

Table tennis
Animation/Entertainment

Day animation

Mini club
Bars/Restaurants

Restaurant

Bar
Dogs on park

Dog not allowed
Water recreation

Distance to
Suitable for

Babies and toddlers (0-4 years)

Children (5-11 years)
Accommodation and prices
1 
accommodation available
Aloha Bungalow
Bungalow
Stone terrace, fully covered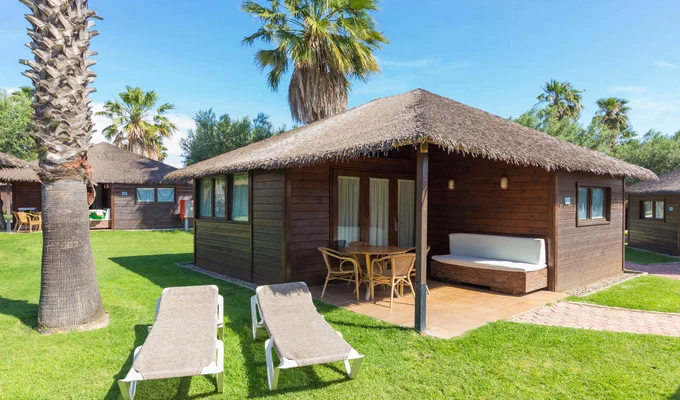 Aloha Bungalow
Bungalow
Stone terrace, fully covered
add_circle
See more information
€2,709
The price excludes a €12.50 protection fee.
done
June 22 - 7 nights 2 adults
Select a price and start your booking
Prices are fluid and may change from one day to the next depending on availability. Prices are excluding £10/€12,50 fee for guarantee fund SGR for a protected booking in case of bankruptcy and calamity contribution.