The main attractions of Styria; the 'Hoher Dachtstein' and hiking...
Styria is a great destination for your holiday. You can enjoy eating in the gourmet region with many local dishes and enjoy panoramic views, beautiful towns and attractions. 
Read more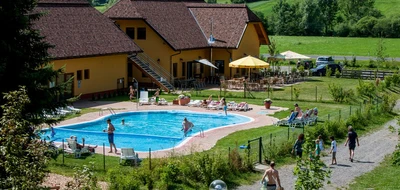 add_circle
Situated in a beautiful valley
add_circle
Ideal for sports enthusiasts
add_circle
Great entertainment for all ages
done
June 22 -
7 nights,
2 adults
done
June 22 -
7 nights,
2 adults
27
accommodation types available
Vineyards and Mountains 
Styria, the Green Heart of Austria, is more than half forest. The greenest region of the country offers some delicious local produce; from the pumpkins and apples to the fine wines from the vineyards of the South. It is very mountainous in the North with the 'Salzkammergut' and the nearly 3,000 metre high Dachstein. You will also find the newest national park in Austria: the breathtaking gorges of the Gesäuse.
Journey through Graz 
Visit enchanting Graz, the second largest city in the country, with its beautiful downtown city. A walk through the historic centre is a real time travel that extends to the present, with the modern Kunsthaus and Murinsel. Magnificent palaces and squares, hidden alleys and romantic courtyards, cobblestones and red tiles. In the historical Graz you recognize the hand of the Italian master builders, who lived here for hundreds of years; a feast for your eyes!