The seaside town of Marciana Marina is set picturesquely at the foot of the mountains...
People who go on holiday in Tuscany often forget that this fascinating region also includes beautiful islands! as the largest of the Tuscan Archipelago islands, Elba is a green oasis with beautiful golden beaches.
Read more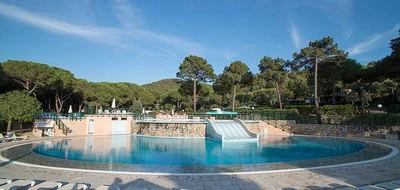 add_circle
Car-free camping right by the sea
add_circle
Within walking distance of town
done
June 22 -
7 nights,
2 adults
done
June 22 -
7 nights,
2 adults
3
accommodation types available
Beautiful bays
The volcanic island has a coastline of 147 miles of beautiful white beaches. Do you like surfing, sailing, snorkelling or scuba diving? Then you have to go to one of the beautiful bays of Marina di Campo and Lacona. The unspoiled nature of the island will surprise you. By renting a bike you can enjoy once again the beauty of this island.
Napoleon
In addition, Elba island boasts a rich history; discovered by the Etruscans and later occupied by the Romans, it was also the island where Napoleon was exiled. He stayed in Portoferraio for 10 months, leaving many traces of his stay. The vast vineyards in the Tuscan Archipelago National Park and the seaside town of Marciana Marina will not disappoint.