A lunar landscape, with traces of lava and deep craters. Etna is awesome!
If you come to visit this area you can not miss this wonder of volcanic! From the campsite you can discover breathtaking landscapes, from the mountains to the bays.
Read more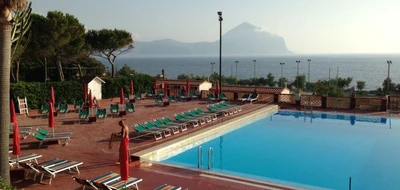 add_circle
The furthest northwest point of Sicily
add_circle
Family campsite set directly at sea
add_circle
Swimming pool with children's entertainment
done
December 24 -
7 nights,
2 adults
done
December 24 -
7 nights,
2 adults
1
accommodation types available
Moonscape 
It's like walking on the moon. Well thats what it feels like when climbing Mount Etna. But you can also take the cable car up to the top of Black Mountain. 
Sicily is a land of beautiful landscapes. The majority of tourists come to camp in this place especially for the beautiful sea, full of rocks among which there are beautiful bays with calm water, a lovely place to paddle and snorkel.
Nature and culture 
Sicily has a very varied terrain, offering high mountains, deep gorges and pristine parks. Hiking lovers will be able to take long walks in nature. 
There are also many towns to visit such as Taormina, the richest resort in Sicily. This place is famous for the ancient amphitheatre and the great ice cream. For a relaxing day you can venture out in the Aeolian Islands or simply enjoy the sun in the camp.