Campings Idromeer
Wonderful woodland and majestic mountains surround beautiful Lake Idro in Lombardy, one of the gorgeous Italian Lakes that attract numerous holidaymakers in search of amazing outdoor holidays. Nestled roughly halfway between Lake Garda and Lake Iseo, Idro is an uplifting destination of striking vistas.
With lovely lakeside settings, our campsites on Lake Idro feature a brilliant array of first-rate camping amenities including nice dining options, recreational facilities, entertainment, swimming pools as well as spacious and modern accommodation.
Read more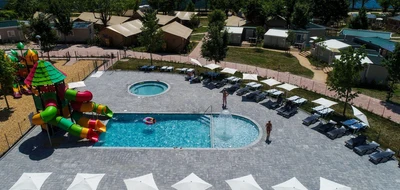 add_circle
Directly on Lake Idro
add_circle
Existing campsite transformed into a Glamping
add_circle
Water fun for everyone
add_circle
Visit the beautiful cities of Bagolino and Bondone
done
June 22 -
7 nights,
2 adults
done
June 22 -
7 nights,
2 adults
10
accommodation types available
Camping Holidays In Lake Idro
Immerse yourself in nature while camping in Lake Idro, where you can fill your lungs with fresh air and empty your mind of troublesome thoughts. Discover pretty lake towns, enchanting walks through valleys and woodland and breathtaking views from marvellous mountains and hills.
What to expect from our Lake Idro campsites
At our campsites in Lake Idro, you can expect serene and scenic locations that are bursting with glorious nature. You'll be able to simply leave the resort and quickly find yourself in the heart of the outdoors, where green valleys, blue rivers and white snow-capped mountains paint the landscape.
On our arrival at your destination, you'll receive a warm welcome at the reception, where the friendly staff will ensure a smooth check-in and can guide you to your accommodation. Upon entering your lodgings, you'll notice comfortable and spacious living areas and convenient amenities.
As you explore the campsite, you'll find fantastic recreational facilities, dining options and in some cases, refreshing swimming pools.
Things to do when camping in Lake Idro
A camping holiday on Lake Idro is best spent traversing the lovely landscapes that surround this beautiful Lombardy location, as well as discovering the lake itself.
The blue waters of the lake are ideal for some peaceful water sports such as canoeing and kayaking, while pretty pebble beaches line the shore and are ideal for visiting with your beach towel and a good book.
A sturdy pair of hiking boots and comfortable backpack will stand you in good stead for walking and hiking trips through the captivating natural environment. For amazing views, head to the trekking trails and eventually the peak of Monte Tombea. A green paradise of rolling fields and valleys awaits intrepid walkers at Valle Sabbia, which lies to the south of the lake.
Other notable mountains that reward climbers with great views include Monte Carzen, Monte Manos and Monte Stinto, while visitors to the region often make the trip to see the Cascata Ampola waterfall.
Teetering on a verdant green hillside, the enchanting San Giovanni castle offers wonderful views and insightful history, while a stop by the tiny town of Baitoni affords you to try some paragliding at the Idroland Fly Zone.
A stay on Lake Idro is ideal for those who love to delve deep into the heart of nature but who would also like the option to explore captivating cities and towns. You'll be ideally placed to visit the historic cities of Brescia and Verona, and a day trip to Milan is possible if you start your journey early enough in the day.
In Brescia, seek out the fascinating attractions of Santa Giulia Museum, Cathedral of Santa Maria Assunta and Victory Square. Juliet's House, Castelvecchio Bridge and the Basilica di San Zeno Maggiore rank among Verona's best attractions. Alongside being the fashion capital of Europe, Milan has many notable places of interest including Duomo di Milano cathedral, Sforzesco Castle and Sempione Park.