Camping Hungary
As far as camping goes, Hungary is somewhat of a hidden gem. Scratch the surface of this central European country to find rich culture, historic traditions and lovely countryside. A land of natural thermal spas, gorgeous lakes and enchanting caves, Hungary will captivate new visitors and regulars alike. The photogenic capital Budapest is a thriving city with stunning architecture while Lake Balaton is a stunning holiday resort.
Like the great Houdini, why not make your "escape" and experience all that this enigmatic country has to offer.
Read more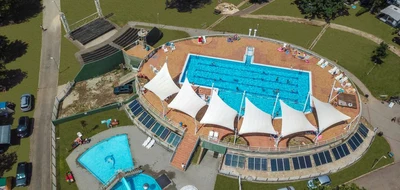 add_circle
Located right by the beaches of Lake Balaton
add_circle
Big family campsite
add_circle
Water fun in the pool and in the lake
add_circle
Water sports and activity programme
done
June 22 -
7 nights,
2 adults
done
June 22 -
7 nights,
2 adults
2
accommodation types available
Camping Holidays In Hungary
Camping in Hungary will appeal to the adventurous among you. With a selection of fantastic campsites featuring excellent facilities, first-rate amenities, lively entertainment programmes, swimming pools and welcoming staff, your outdoor trip to magnificent Magyar is in safe hands with us.
Our Best Campsites In Hungary
Perhaps the second most visited place in Hungary after Budapest, Lake Balaton is home to our great selection of campsites. With beautiful clear waters that are warm enough to swim in during the summer, Lake Balaton is ideal for lakeside camping holidays in Hungary.
Campsite Aranypart, close to the lively town of Siófok, caters for young families and features a swimming pool, plenty of sporting activities and extensive amenities. With direct access to the lake, kids and adults can enjoy some enthralling water sports.
Located near the north end of Lake Balaton, Campsite Füred offers 4* camping with great accommodation, facilities and activities based in and around the lake. The resort is ideally positioned for day trips to Budapest if you have your own car.
Enjoy the family friendly atmosphere at Campsite Pelso, where guests can mix relaxation and adventure with equal measure. Sunbathe on the calming shores on the lake as the crystal clear waters shimmer under the warming sun. Kids will revel in the animation programme and sporting activities at the site.
Things to do in Hungary while camping
We don't immediately think of Hungary as a holiday destination, but this underrated Central European nation has much to offer holidaymakers.
Our campsites are dotted around Lake Balaton where there are numerous things to do and places to discover. Venture through the scenic hiking trails of the Balaton Uplands National Park for lovely views of the lake. The flora and fauna on display at the Koloska Valley also merit a mention. For some culture, we'd recommend a visit to the Balaton Museum, Kálmán Imre Múzeum or the Festetics Palace.
There's plenty for the kids to do in the surrounding area. Energetic children will can gleefully whizz down the bobsleigh trackers at BalatoniBob Leisure Park, which also features a forest playground. Westernpark Nemesvita is a Wild West themed amusement park that features stirring shows, panning for gold and horse riding. A day out at Annagora Aquapark will be filled with water slides, splash playgrounds and smiles.
If you are in the mood for some time in the city, the charismatic capital Budapest is around 90mins by car from our campsites. Steeped in history and a rich culture, the city is split by the river Danube and features many interesting museums, thermals spas and city parks.
The best attractions include Buda Castle, the Fisherman's Bastion, Széchenyi Thermal Bath, the Central Market Hall and Gellért Thermal Bath. If you have kids in tow, consider a visit to the Budapest Zoo & Botanical Garden, Budapest Eye Ferris Wheel or the Budakeszi Wildlife Park.
Ensure to make some time to dine out in the capital and partake in Goulash, Lángos (deep-fried bread) and Somlói Galuska, if you have a sweet tooth.