Camping Greece
Stunning coastal bays with golden sands and impossibly beautiful blue waters accentuate the seemingly endless coastline of Greece. The raw beauty is enough to rival Aphrodite herself. Bathe yourself under the balmy sun on gorgeous Greek Islands or delve into the fascinating mythology of this majestic Mediterranean destination.
We have a fantastic selection of coastal campsites featuring swimming pools, great amenities and idyllic locations, whether you want to dive into the legends of old or lounge under the balmy sun on blissful beaches.
Read more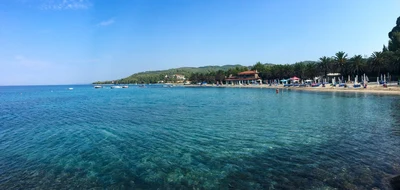 add_circle
Directly on the beach
add_circle
Crystal clear seawater
add_circle
Many sports opportunities
add_circle
Good location at Neos Marmaras
done
June 13 -
7 nights,
2 adults
done
June 13 -
7 nights,
2 adults
1
accommodation types available
Camping Holidays In Greece
Camping in Greece is a dizzying array of sea and sun, myths and meze, happiness and harmony. The lush landscapes offer the ideal place for a relaxing and rejuvenating escape, a chance to plunge head first into a wondrous culture.
What to expect while camping in Greece
When you take a camping holiday in Greece with us, you will discover amazing coastal campsites that literally kiss the shoreline and give you access to wonderful golden sandy beaches. The azure blue waters that lap the endless coast invite you in to escape the hot sun and explore the depths below.
On our sites, you can expect relaxing, comfortable and modern accommodation equipped with air-conditioning to keep you cool under the warm Mediterranean sun. Nested in well-shaded and verdant green emplacements, our mobile homes provide great amenities to ensure you have an easy-going time for the duration of your stay.
Around the campsite, you will find a range of dining options where you can sample some local and national cuisine, so be prepared to indulge in sublime olives, mouth-watering moussaka and brilliant baklava. Other amenities will include, in some cases, grocery stores and mini-markets so you can cook in your accommodation.
You'll have access to both the briny waters of the sea or swimming pools on our resorts, as well as the chance to keep active with a range of sports, games and other outdoor activities. The beach side locations lend themselves well to those interested in water sports.
When you book a stay with us, you'll find that are locations are ideal for getting out and exploring the Greece of old and new. Peel back the curtain and delve deep into the heart of myths, legend and history.
Things to do while camping in Greece
Aside from the glorious beaches and coastal resorts that offer blissful days relaxing and swimming, Greece offers wonderful walking and hiking trails. A few areas of outstanding beauty, namely the Vikos National Park and Mount Olympus National Park feature dramatic landscapes and shaded woodland to amble around in. There are many water parks around the country, so kids are well catered for on hot, sunny days.
If you happen to camp in the region of Halkidiki, you'll be treated to some of the best beaches in the country with the golden sands at Chrouso, Gerakini and Alykes ranking among the most alluring. You'll also be pitched up close to the inviting port city of Thessaloniki that has numerous tourist attractions including the White Tower of Thessaloniki, Arch of Galerius, Aristotelous Square and the Museum of Byzantine Culture.
Set up camp on the scenic islands of Corfu, a stunning patch of Ionian Sea land that is noted for its rugged mountains, dazzling white sand beaches and bustling resorts. Mount Pantokrator provides the perfect place for hiking and vistas of the surrounding area. Notable points of interest include the Old Venetian Fortress, St. Spyridon Church, The Bazaar of Corfu Old Town and the Temple of Artemis.
If you make it out to the capital Athens, you will be rewarded with some amazing attractions including the Acropolis of Athens, Parthenon, Temple of Olympian Zeus and Mount Lycabettus to name but a few.