Campings Cantabria
The lush green countryside of enchanting forests, grassy valleys and rolling fields are evidence that the Costa Verde has been aptly named. The pace of life is slow in the quaint villages that nestle in rural landscapes and refreshing air amplifies the peaceful ambiance of charming fishing villages and beautiful beaches.
Book a stay in one of our campsites in Cantabria and discover wonderful resorts close to the beach that feature swimming pools, recreational amenities, lovely dining establishments and inviting lodgings.
Read more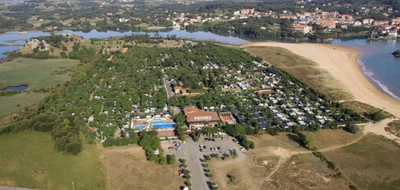 add_circle
Swimming pool with sun terrace
add_circle
Separate paddling pool for the little ones
add_circle
Beautiful sandy beach directly by the campsite
add_circle
Go hiking in the nearby nature reserve
done
June 21 -
7 nights,
2 adults
done
June 21 -
7 nights,
2 adults
2
accommodation types available
Camping Holidays In Cantabria
Swap the hustle and bustle of the Mediterranean coast and immerse yourself in the soothing green countryside of this magnificent northern Spanish region. Join us camping in Cantabria and discover your next favourite outdoor holiday destination.
What to expect from our campsites in Cantabria
Days out by the sea and excursions into the heart-warming countryside are the ideal blend for an open-air escape. Stay in one of our top campings in Cantabria and you can enjoy the best of both worlds.
Upon checking in at the reception, you'll meet the resort's friendly and helpful staff who can guide you to your accommodation. Designed with privacy and peace in mind, our accommodation options occupy shaded and spacious emplacements, and feature a wealth of camping amenities inside.
Once you've settled into your lodgings, why not venture into the heart of the campsite in search of first-rate facilities that typically include swimming pools, sports and games amenities, dining establishments and much more.
Things to do when camping in Cantabria
It's true that Cantabria enjoys less hours of sunshine than the Costa Brava or Costa Blanca, but the beaches here can rival those perched on the Mediterranean Sea. The sweeping coastline of the Bay of Biscay is fringed with numerous lovely sandy beaches that boast gorgeous azure blue waters and dramatic cliffs. Brilliant examples worth a day trip include Playa de La Concha, Sardinero, Playa de Langre and Playa de los Bikinis.
Arguably more beautiful than the coast, the inland areas showcase sprawling green countryside that are ideal for walking, cycling or hiking trips.
Remember your camera on an excursion through the stunning Cantabrian Mountains, Los Picos de Europa National Park and Saja-Besaya Natural Park, where amazing photogenic vistas are numerous. A captivating insight into prehistoric life can be enjoyed on an underground outing to the El Pendo Caves and the Cave of Altamira, where ancient cave paintings are on display.
For a chance to immerse yourself in the relaxing and reflective lifestyle of Cantabrians, you should head for one of the enchanting towns of San Vicente de la Barquera, Santillana del Mar, Comillas or Liérganes. For a livelier experience, Santander is good for shopping and dining experiences. The city also features plenty of notable points of interest such as Museum of Prehistory and Archaeology, Centro Botin, Mataleñas Park and the Palace of La Magdalena
Visitors who take a camping holiday in Cantabria with young children can embark on educational and entertaining day trips to the Cabarceno Natural Park, Ecomuseum Fluviarium of Liérganes and Santillana del Mar Zoo. Enthralling water sports are available on the coast including sea canoeing and surfing, whilst in the countryside they can enjoy horse riding and river kayaking trips.