Campings Lisbon
Lisbon, rich in colour and culture, is overlooked by seven hills each offering lovely vistas of this beautiful Iberian city. The capital of Portugal boasts a balmy climate and historical neighbourhoods whilst the greater region offers blissful beaches, vibrant coastal resorts and striking countryside.
Our sun-drenched destinations in and around Lisbon are well equipped with a range of camping amenities that include swimming pools, sports & recreational facilities, dining options and modern, spacious accommodation.
Read more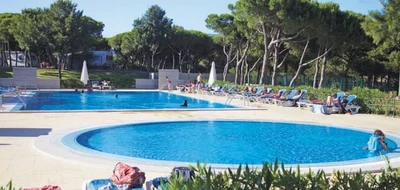 add_circle
High above sea level
add_circle
Family campsite for the whole family
add_circle
Modern swimming pool with a separate children's pool
add_circle
Nice playground
done
December 25 -
7 nights,
2 adults
done
December 25 -
7 nights,
2 adults
4
accommodation types available
Camping Holidays In Lisbon
Camping in Lisbon affords you the chance to explore a buoyant and bewitching city, play on gorgeous sandy beaches and venture deep into the heart of verdant countryside. Book a stay with us and enjoy a delightfully diverse outdoor escape in Portugal.
Things to do when camping in Lisbon
The hues and tones that give colour to Portugal's capital will leave you captivated and inspired in equal measure. Explore the maze of cobbled streets of Alfama, one of Lisbon's oldest and prettiest districts or the mosaic cobbles of Rossio in the very heart of the city. The neighbourhood of Bairro and its restaurants and bars come alive in the evening.
A fantastic tourist experience involves jumping on the famous #28 tram that rattles through many of the city's popular districts before hopping off for stunning vistas at Santa Luzia Miradouro. From here, you'll be able to get a bird's eye view of the old city and the Tage River.
In the lively district of Baixa, you'll have the chance for plenty of shopping and dining experiences, while the market at Mercado da Ribeiro is filled with stand after stand selling sumptuous Portuguese cuisine. The little tavernas known as Tascas in Alfama offer wonderful grilled fish while mouth-watering pastéis de nata can be bought and savoured in Antiga Confeitaria de Belém.
Don't miss these other tourist attractions while taking a camping holiday in Lisbon; Queluz National Palace, Belém Tower, Praça do Comércio public plaza, Castelo de S. Jorge Castle and Parque Eduardo VII public park.
In the surrounding area of Lisbon, you will find plenty of natural landscapes in which to enjoy a variety of outdoor activities. In the foothills of the Sintra Mountains, the resort town Sintra welcomes you to enjoy its slow pace of life, forest terrain and pastel-colored villas and palaces.
To the Lisboa coast, you'll find the royal fishing town of Cascais and the charming shore village of Sesimbra, both of which are worthwhile day trips. For days by the beach under the warm sun, head to the fine sands at Costa da Caparica, Praia Velha and Carcavelos. The sands are primed for sandcastle building and the waters are ideal for swimming.
In the Sintra-Cascais Natural Park, walkers and hikers can amble through a diverse landscape filled with rich vegetation and wildlife that slowly angles towards the Atlantic Ocean. Look out for the striking architectural wonders of Castelo dos Mouros, Quinta da Regaleira and the Palace of Monserrate during your adventures here.
The region is an ideal destination for family holidays, with plenty for young campers to experience and enjoy. Whisk the kids away for fun filled days at Lisbon Zoo, Estufa Fria botanical gardens, Pavilhão do Conhecimento science museum and Sportágua Water Amusement Park.