Green nature, beautiful bays and clear blue sea from a campsite in Corfu!
Discover the beautiful green Corfu, with its wooded mountains, hills, beautiful beaches and bays... add the pleasant warm weather and enjoy a wonderful holiday at a campsite in Corfu!
Read more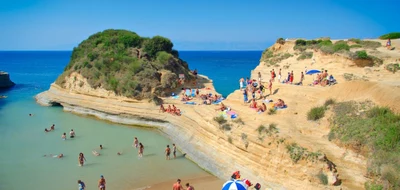 add_circle
Beach within walking distance
add_circle
Delicious Greek dishes in the restaurant
add_circle
Cool off in the inviting pool or azure sea
add_circle
Water sports, entertainment and excursions
done
June 22 -
7 nights,
2 adults
done
June 22 -
7 nights,
2 adults
1
accommodation types available
Natural beauty on Corfu
Corfu is for the most part a fairly flat island. In the north of the island there are some higher mountains and in the south Corfu has a hilly landscape. The higher mountains in combination with all the green provide a beautiful view. Paleokastritsa, for example, is a beautiful place. Beautiful beaches on the clear blue sea surrounded by green mountains... Paleokastritsa gives the holiday feeling at its best. You can step into a boat and discover caves. Have fun at a campsite in Corfu!
'To do' from your campsite in Corfu
Corfu has a rich history. Many different peoples have stayed in Corfu, because it has always been a very popular island. Eretrians, Corinthians, Athenians, Spartans, Romans, Byzantines, Sicilians, Venetians, British and French wanted to take possession of Corfu. This rich history shows itself in the various remains on the island. Corfu town (Kerkyra) is really the highlight here and you can not skip during your holiday at a campsite in Corfu! In Corfu town you can wander through the atmospheric city with beautiful Venetian-style houses. Do not forget to visit the old and the new fortress. The Achilleion palace is also worth a visit. This palace is also called the palace of Sissi, it was built on behalf of Empress Elisabeth from Austria. Cultural treasures abound on Corfu!