Campings Rhône-Alpes
The fresh mountain air and a generous amount of sunshine gently warms the wonderful mountains, lakes, rivers and rolling green countryside of the Rhône-Alpes in France. With historical cities, quaint hilltop villages and a distinct culture, it's a diverse and delightful region for awesome outdoor holidays.
Arrive on one of our fantastic campsites in the Rhône-Alpes to welcoming smiles from the friendly staff and a superb assortment of camping amenities including great accommodation, swimming pools, recreational facilities and dining & shopping options.
Read more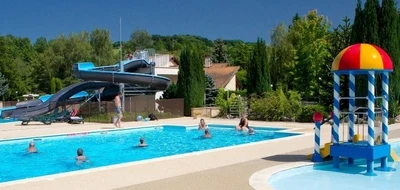 add_circle
Located in beautiful surroundings on a quiet flowing river!
add_circle
Covered pool with children's pool and 2 water slides!
add_circle
Various sports facilities for all tastes
add_circle
Possibility of fishing
done
June 21 -
7 nights,
2 adults
done
June 21 -
7 nights,
2 adults
1
accommodation types available
Book with confidence
done
1000+ Campsites and Holiday Parks
done
Lowest Price Guarantee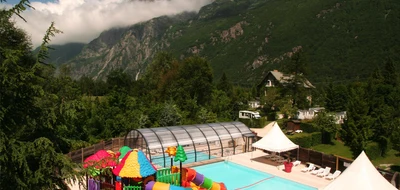 add_circle
Castle campsite at the foot of the famous Alpe d'Huez
add_circle
Outdoor pool with slide and indoor pool
add_circle
Take a relaxing walk in the beautiful gardens
add_circle
Visit Alpe d'Huez, "the Dutch mountain," just a few kilometers from the campground
done
June 20 -
7 nights,
2 adults
done
June 20 -
7 nights,
2 adults
1
accommodation types available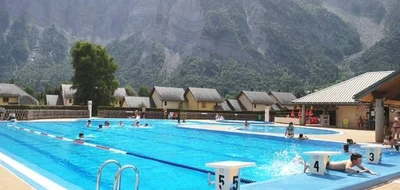 add_circle
Swimming pool at 100 m, with mountain views
add_circle
Daytime and evening entertainment
add_circle
At the foot of the Alpe d'Huez
add_circle
Multisport court and trampoline
done
June 20 -
7 nights,
2 adults
done
June 20 -
7 nights,
2 adults
2
accommodation types available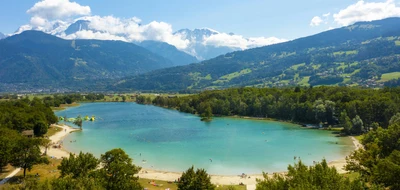 add_circle
Directly on the lake
add_circle
Family Campsite
add_circle
Swimming in the lake
add_circle
Ideal for water lovers
done
June 18 -
7 nights,
2 adults
done
June 18 -
7 nights,
2 adults
11
accommodation types available
Camping Holidays In Rhône-Alpes
Time spent among beautiful nature while camping in Rhône-Alpes with your loved ones will yield wonderful holiday memories and a nostalgia that will lure you back in years to come.
Our Best Campsites In Rhône-Alpes
Set in the heart of nature, our best campsites in the Rhône-Alpes provide you with soul-soothing environments where you can dive head first into the wonders of the great outdoors.
Enclosed by verdant green woodland, the stunning resort of Domaine de Chaussy offers 5* camping experiences close to the Ardèche River, where holidaymakers can base so many memorable outings. Les Iles boasts wonderful views of the lake that it nestles next to, and breathtaking vistas of the mountains that loom overhead.
Each one of our destinations offer something unique, but the comprehensive amenities are a shared feature of all our campsites. You will have a wonderful selection of accommodation, dining & shopping establishments, swimming pools and recreational facilities at your site, which will act as the perfect base from which to explore the local area.
We welcome you to accompany us on a truly unforgettable camping holiday in the Rhône-Alpes with your nearest and dearest.
Things to do when camping in Rhône-Alpes
The region is famed for its lively winter resorts that welcome a flurry of skiers and snowboarders who enjoy fine powder snow, remarkable vistas and sublime slopes. When the snows melts, the landscapes are just as beautiful and the activities to enjoy number many.
A paradise for lovers of the great outdoors, the region's characteristic landscapes comprise of majestic mountains, gorgeous lakes and rivers, enchanting woodland and green valleys. A multitude of outdoor activities are possible from pleasant walks, hikes and cycling trips to exciting sports such as canyoning, white-water rafting, rock climbing and much more.
On the shimmering waters of Lake Annecy, visitors can enjoy a range of water sports including sailing, paddle boarding and kayaking, as well as scenic ambles around the shores. The historic mountain pass of Mont Cenis offers lovely views of the lakes below while the Vercors Regional Natural Park rewards day-trippers with breathtaking vistas from its plateaus.
The popular department of Ardèche features gorgeous gorges that are home to lovely rivers and lakes, and a magical natural stone arch that strides over the river. A series of interesting prehistoric cave paintings can be observed below ground at Chauvet Caves, while yet more subterranean sights can be found at the caverns of Grotte de la Madeleine and Aven d'Orgnac.
The region is dotted with numerous villages and towns that exude the culture of the region including Annecy, Chamonis, Ruoms and Aubenas. These quaint communes are the ideal place to sample the cuisine and overall ambiance of the Rhône-Alpes.
The colourful city of Lyon has a flourishing shopping and dining culture, and many notable attractions including the Bartholdi Fountain, Tête d'Or Park, Place Bellecour and La Basilique Notre Dame de Fourvière.
For children, and playful adults, the region has many attractions that educate and entertain with equal measure, including Merlet Zoo or Peaugres Safari Park. For hair-raising excitement, enjoy the rollercoasters and rides at Walibi Theme Park.