Campings Lake Iseo
A jewel in the crown of the Italian Lakes, best described as blissful and beautiful, Lake Iseo is a wondrous holiday destination suited to those that cherish peaceful outdoor activities with a sprinkle of adventure. Majestic mountains, hillside vineyards and picturesque villages perched on the shore look out over the sparkling waters and the stunning island of Monte Isola.
Discover amazing amenities on our campsites in Lake Iseo including swimming pools, multi-sport grounds, dining facilities and great accommodation options to ensure you have a truly memorable family holiday in Italy.
Read more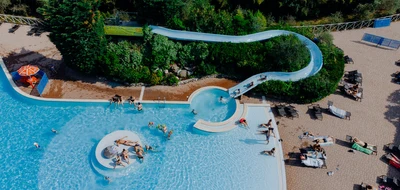 add_circle
Located on Lake Iseo
add_circle
Car-free campsite
add_circle
In the wine region of Franciacorte
done
June 16 -
7 nights,
2 adults
done
June 16 -
7 nights,
2 adults
6
accommodation types available
Camping Holidays In Lake Iseo
Camping in Lake Iseo rewards visitors with the chance to explore mountain landscapes, enchanting woodland and quaint fishing villages. This lovely body of water rivals Lake Garda, Lake Como and Lake Maggiore for natural beauty, and stands proudly as one of the best places to visit in Lombardy.
What to expect from our Lake Iseo campsites
As you make your way to one of our top campsites on Lake Iseo, you'll immediately see and sense the beautiful nature that saturates the landscape. A gentle ambiance of serenity blends effortlessly with the lovely surroundings, and you'll cherish your first glimpse of the lake as you make your approach.
This soul-soothing sense of freedom continues when you make it one of our campsites, where our green environments merge into the surrounding area, and our accommodation occupies private and peaceful emplacements.
Once you've been checked in by the resort's helpful and approachable staff, you can explore the campsite's comprehensive range of facilities that often include swimming pools, great dining options, sports and games amenities and much more.
All in all, our destinations provide the perfect place to explore this lovely Lombardy lake, so book your camping holiday in Lake Iseo with us today.
Things to do when camping in Lake Iseo
The captivating landscapes are primed for adventures in the outdoors, with hiking, walking and cycling among the most popular pursuits around Lake Iseo. Pack a sturdy pair of hiking boots so you can traverse the majestic mountainous trails and enchanting woodlands that surround the lake.
The picturesque valley of Val Trompia offers beautiful vistas while the trails of the Valle del Freddo Nature Reserve lead you down scenic forest paths that are well shaded. For challenging hikes, head to the summits of Monte Guglielmo, Monte Pora and Monte Bronzone. The hiking trails of Via Valeriana snake through the region passing by vineyards and olive groves.
One of the best ways to explore Lake Iseo is to hop on your bike and cycle around the pretty perimeter, passing by quaint fishing villages that line the shores. You can soak up the culture of this wonderful region by visiting the towns of Lovere, Pisogne, Sulzano and Iseo.
The green island of Monte Isola emerges majestically from the lake, and features an array of scenic villages that line the coast. The isle can be reached by the ferry that runs from Sulzano to Peschiera.
If you have an inkling for fine Italian wine, you'll be delighted to visit one of the local vineyards for some wine tasting. Sample nice white wines on a day trip to Cantina Derbusco Cives, Ca' del Bosco or Mosnel Franciacorta.
We recommend hiring a car for the duration of your stay, as you can freely explore the shores of the lake as well as taking a day trip to the historic city of Brescia. This culturally rich destination features many notable points of interest including the Castle of Brescia, Piazza del Duomo and the Church of St. Francis of Assisi.