Campings Central Portugal
Simply put, Central Portugal has it all…. Gorgeous beaches and quaint seaside resorts, historical villages, mountainous hinterland and charming countryside. With a lovely climate generously offering plenty of sunshine and a culturally rich heritage, it's a wonderful outdoor holiday destination.
Our campsites in the region offer a wealth of amenities, from swimming pools and recreational facilities to delicious dining establishments and first-rate accommodation. With exciting entertainment and plenty to do onsite, you'll love a spot of camping in central Portugal with the whole family.
Read more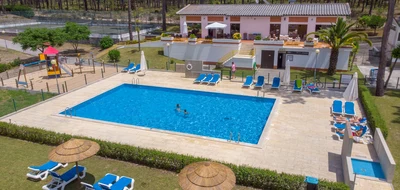 add_circle
In the middle of a pine forest
add_circle
Snack bar and mini supermarket
add_circle
Swimming pool with sun terrace
add_circle
Playground and table tennis
done
December 25 -
7 nights,
2 adults
done
December 25 -
7 nights,
2 adults
4
accommodation types available
Book with confidence
done
1000+ Campsites and Holiday Parks
done
Lowest Price Guarantee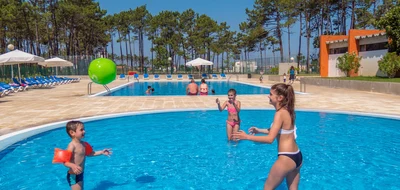 add_circle
2.5 kilometers from a nice sandy beach
add_circle
In a shaded pine forest
add_circle
Swimming pool, children's pool and sun terrace
add_circle
Tennis, multi-sports field and playground
done
December 25 -
7 nights,
2 adults
done
December 25 -
7 nights,
2 adults
4
accommodation types available
Camping Holidays In Central Portugal
Join us at one of our top destinations and enjoy a fabulous region primed for open-air escapes. Discover fine sandy Atlantic Ocean beaches, culturally rich towns and green countryside filled with captivating landscapes.
Our Best Campsites In Central Portugal
Book a stay in one of our best campsites in Central Portugal and holiday in serene and scenic settings with easy access to lovely beaches. With a comprehensive line up of camping amenities, our resorts feature everything you require to savour a sunny escape in this idyllic Iberian destination.
Make new friends on our site's sporting and recreational spots, and enjoy sumptuous cuisine with your family in restaurants that serve both regional and national dishes. You'll typically find grocery stores and mini markets stocking a range of daily essentials.
With such a balmy climate, the air-conditioning that typically comes as standard in our mobile homes will be a welcome facility in your accommodation. With spacious living areas and occupying private and peaceful emplacements, your lodgings will be a very comfortable home away from home.
Things to do when camping in Central Portugal
Active campers will revel in a stay in Central Portugal, where striking landscapes are characterized by natural beaches, inviting villages, mountains massifs and UNESCO World Heritage monuments. The aptly named Silver Coast, lying between the cities of Lisbon and Porto is perfect for sunny days by the sea.
A visit to the Iberian Peninsula rewards tourists with a great choice of beautiful beaches. The soft sands at Nazaré beach are ideal for sunbathing on while the water is perfect for swimming and surfing. The well-developed waterfront promenade features plenty of bars and restaurants. Other blissful beach options include Praia da Tocha, Praia da Claridade and Santa Catarina Praia do Forte.
Heading into the interior of the region, you'll find plenty of natural landscapes that are primed for outdoor adventures. Hiking fans will be rewarded with lovely views from the summit of Serra da Estrela. Scenic trails define the landscapes of Serras de Aire e Candeeiros Nature Park, which also features caves and waterfalls.
If you'd like to experience the culture of the region, a trip to one of the many nostalgically appealing towns and villages is recommended. Check out the towns of Obidos, Sortelha, Aveiro and Sortelha. The historical towns of Coimbra plays host to one of the oldest universities in Europe while Batalha and Alcobaça feature majestic monasteries.
Young campers can make a splash at the many water parks in the region, so why not whisk them away to enjoy the sublime slides and water rides at Norpark Aquatic Amusement Nazaré or Sportágua Water Amusement Park.
Discover your next favourite vacation destination when you go on a camping holiday in Central Portugal. Book a stay with us on this delightful Iberian region and savour sunny days spent with family and friends.