Campsites in Tyrol
Tyrol has the most famous mountains of Austria and is a very popular holiday region. You'll find the highest peaks of the country with delightful lakes and the medieval Innsbruck.
Read more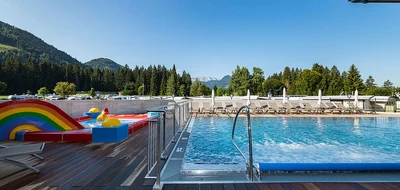 add_circle
Campsite with modern facilities
add_circle
In beautiful surroundings
add_circle
Outdoor pool, indoor children's pool
add_circle
Indoor play area for children
done
June 22 -
7 nights,
2 adults
done
June 22 -
7 nights,
2 adults
2
accommodation types available
All the peaks 
The highest point here is the Großglockner in East Tyrol which is a gigantic 3797 metres and is also the highest point of the country. The nature of Tyrol is equally impressive, whether they consist of green valleys and white glaciers. Water enthusiasts can enjoy the lovely clear water of Tyrol in lakes such as the Achensee which is the largest lake in the region.
From the Stone ages to the Middle Ages
The region still has more to offer than just scenery. The capital Innsbruck is 800 years old and is full of medieval buildings. The Ötzi village is as authentic as possible and is a recreated village from the New Stone Age. Tyrol is proud of its heritage and is where schnapps are made. This is a wonderful holiday in an authentic region full of highlights!