Campsites in Corfu
Due to the mild climate, Corfu is greener than other islands with majestic cypresses and ancient olive trees. It is teeming with beautiful snorkel bays, beaches and picturesque villages and history has left its marks. Because of its versatility, the island is great for all ages, families, grandparents and couples.
Read more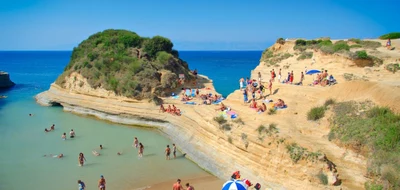 add_circle
Beach within walking distance
add_circle
Delicious Greek dishes in the restaurant
add_circle
Cool off in the inviting pool or azure sea
add_circle
Water sports, entertainment and excursions
done
June 22 -
7 nights,
2 adults
done
June 22 -
7 nights,
2 adults
1
accommodation types available
Kerkyra - Corfu City: strolling, shopping and food
Corfu City is a beautiful old but also trendy city with Venetian buildings, narrow streets, terraces and squares. Several rulers have left their mark on Corfu. A beautiful park is the Esplanade with trees, wide paths, benches, a bandstand, fountains and a cricket ground. Along the Esplanade runs the Liston, a long building with beautiful galleries with arches. The Liston was built during the French occupation as a miniature copy of Rue de Rivoli in Paris. Now it is a busy place with all kinds of coffee shops and restaurants. Limit yourself here to a drink or a small snack, because it is quite pricey here. Dive into the small side streets for small affordable taverns. Tip for children; discover the city with the tourist train that departs from here.
Beaches: beautiful, more beautiful
The most beautiful, longest sandy beaches can be found on the west coast, in the northeast the coast is rocky with pebbly beaches and if possible even more beautiful bays. We pick out a few recommendations, but you will definitely find your favourite beach! Rent a boat in Paleokastritsa to sail to Paradise Beach. Kalamaki Beach in the northeast, has a child-friendly gently sloping sandy beach. Glyfrada on the west coast is hip and trendy. And from the terraces at Barbati Beach you have a beautiful view of the sea. Pack your snorkel gear!