Campsites in Algarve
Famed for its golden cliffs, idyllic beaches and appealing azure blue waters, the Algarve lies in the south of Portugal and fringes the Atlantic Ocean. Lively resorts and charming coastal towns are steeped in rich culture and architectural heritage, whilst the feel good ambiance perfectly reflects the slow pace of life.
Book a stay with us on one of our campsites in the Algarve enjoy a wide selection of comprehensive camping amenities that include swimming pools, dining & shopping establishments, sports & recreational facilities and fantastic accommodation.
Read more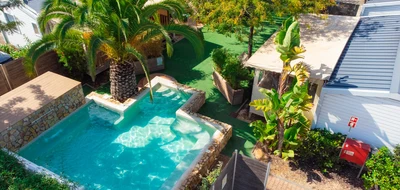 add_circle
Terraced campsite with lots of flowers
add_circle
Water park with a beautiful outdoor pool
add_circle
Open all year round
add_circle
At 3 km from the most beautiful sandy beaches of the Algarve
done
June 22 -
7 nights,
2 adults
done
June 22 -
7 nights,
2 adults
5
accommodation types available
Book with confidence
done
1000+ Campsites and Holiday Parks
done
Lowest Price Guarantee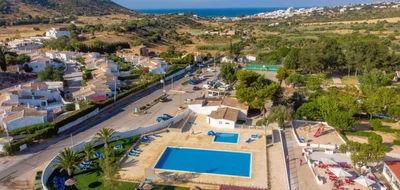 add_circle
1.5 km from Praia da Luz
add_circle
7 km from Lagos
add_circle
Swimming pool and separate children's pool
add_circle
Animation, sports and playground
done
December 25 -
7 nights,
2 adults
done
December 25 -
7 nights,
2 adults
2
accommodation types available
Camping Holidays In Algarve
Treat you and your family to an outdoor escape in the midst of sun-drenched beaches and inviting natural surroundings when you go camping in Algarve. With lovely seaside settings hosting a wide range of active and relaxing pursuits, it's the ideal place for al fresco escapes under balmy climes.
Our Best Campsites In Algarve
If you'd like to escape the hustle and bustle of everyday life and head to sunnier shores, then seek out one of our top campsites in Algarve, where blissful beaches and cool coves await you.
Boasting a great range of amenities such as splashy swimming pools, super sports facilities and recreational grounds, and dining establishments, you'll find everything you need to enjoy a sun-filled family holiday.
Our comprehensive selection of spacious and modern accommodation will ensure your stay feels very homely and comfortable, with interiors that features a great range of amenities. You'll feel the peace and privacy that our well-shaded, green emplacements occupy, ensuring you have a serene stay.
Things to do when camping in Algarve
One of the main benefits of taking a camping holiday in the Algarve is the scintillating beaches that are marked by golden sands and blissful blue waters. Complementing the balmy climate, the long stretches of strand and captivating coves are the quintessential image of this wonderful region in southern Portugal.
There are numerous beaches dotted along the coast of the Algarve but special mention should go to the fine sands of Carvalho Beach, Praia da Marinha, Praia de S. Rafael, Praia da Coelha and Baixinha. The much-photographed Benagil Caves make for a nice day trip, where you can enjoy the boat trip required to take you there.
For a lively day trip by the sea, why not head to one of the many bustling resorts on the coast. At Praia da Rocha, Vale do Lobo and Armona Island you can enjoy sun-bathing on golden sands before chilling out by a bar or enjoying lunch with gorgeous views of the ocean. Water sports enthusiasts can gleefully seek out aqua activities such as sea kayaking, paddle boarding, parasailing and jet skiing at the many providers in the region.
If you plan to enjoy your sun-drenched holiday with the kids, you'll be happy to know that there is plenty to keep young campers entertained in the Algarve. Pick of the bunch are the wonderful water parks of Slide & Splash, Zoomarine and Aqualand Algarve.
If you'd like to spend some time hiking or biking, then head along the coastal trails that offer scenic walks and cycling trips. A prime example of picturesque seaside views can be found on the 2-mile stretch of nature reserve at Sudoeste Alentejano e Costa.
History buffs will be fascinated to learn about the culture and antiquity of the region, with notable places of interest including the Castle of São João do Arade, Alfanzina Lighthouse, Santa Catarina Medieval Fort, Sagres Fortress and the Castle of Silves.
For good shopping and dining experiences, venture into one of the many resorts and towns in the region, most of which feature plenty of restaurants, shops and of course, blissful beaches. Lagos, Albufeira and Faro rank among the most popular in the region.