Campsites in Calabria
The Calabria region, with Catanzaro as its capital, is located in the south-western boot of Italy. It has a picturesque charm which can be explained to a large extent by its wild nature. High mountains, wooded areas, beautiful sandy beaches and cosy, but also fascinating little towns. Moreover, Calabria's history is characterised by its connection with Magna Graecia and the Roman Empire, so you can visit beautiful ruins. Book your unforgettable camping holiday in Calabria with VacanceSelect.
Read more add_circle
On the beautiful Ionian coast
add_circle
Beautiful beach with free umbrellas
add_circle
Swimming pool for a fee
add_circle
Many historical sites nearby
done
June 22 -
7 nights,
2 adults
done
June 22 -
7 nights,
2 adults
1
accommodation types available
Book with confidence
done
1000+ Campsites and Holiday Parks
done
Lowest Price Guarantee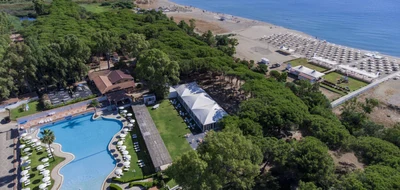 add_circle
Accommodations in the shade of pine trees
add_circle
Numerous sports activities
add_circle
Long private beach at the park
add_circle
Visit the National Archaeological Museum of Sibaritide
done
June 22 -
7 nights,
2 adults
done
June 22 -
7 nights,
2 adults
2
accommodation types available
Why is a camping holiday in Calabria so ideal?
TOP 4 at a glance: 
Magnificent mountains combined with the blue sea
Fantastic beaches
A rich historical heritage
A variety of great campsites
The cities of Calabria
Calabria has many fascinating cities where you can experience the interesting history. The city Cosenza has a historical centre with older monuments such as monasteries and palaces. The city Cantazaro is the capital of Calabria and is known for its breathtaking view of the two valleys Musofalo and Fiumarella. You can also visit the city of Crotone, a modern industrial town.
Beaches and nature in Calabria
Calabria offers approximately 800 km of coastline with a wide range of beautiful beaches. You should definitely visit the beach of Capo Vaticano, which is considered one of the 100 most beautiful beaches in the world with its fine sand surrounded by century-old trees and crystal-clear water. You could also explore the hinterland of Calabria with its beautiful national parks, such as Sila, Serre and Pollino.