Campsites in Balaton
After Budapest, Lake Balaton is the next the largest tourist attraction in Hungary with its well known  lake,  it is a great place to spend your holiday. 
Read more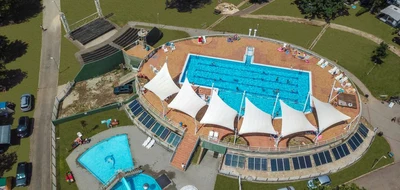 add_circle
Located right by the beaches of Lake Balaton
add_circle
Big family campsite
add_circle
Water fun in the pool and in the lake
add_circle
Water sports and activity programme
done
June 22 -
7 nights,
2 adults
done
June 22 -
7 nights,
2 adults
2
accommodation types available
Fun at the lake! 
On the shores of Lake Balaton there are only a few small villages. The tourist areas are centered on the south side of the lake as the water is warmer there and the beaches are wider. The south shore is also an ideal choice for young families.
Wine & walking.... 
Lake Balaton is the largest lake in Europe. So there is a lot to discover here..... If you opt for the north shore, you can walk through the Balaton Uplands National Park and sample the delicious wine here,  the basalt slopes are full of  vineyards! The  spa town of Balatonfüred is the most popular tourist resort on the north bank.