Camping Luxembourg
Stretching just 85km at its widest point, little but lovely Luxembourg nestles itself in a beautiful region of northern Europe, rubbing shoulders with France, Germany and Belgium. This wealthy state has borrowed much from its neighbouring countries, and that includes stunning scenery filled with rolling woodland hills, quaint villages featuring medieval castles, meandering rivers snaking through lush valleys and beautiful lakes.
The striking natural landscapes lend themselves perfectly to outdoor-based holidays, whether you prefer to relax and recharge or cram your stay full with adventures and al fresco activities. Our campsites in Luxembourg feature great swimming pool complexes, first rate amenities and are ideally placed to explore this wonderful nation.
Read more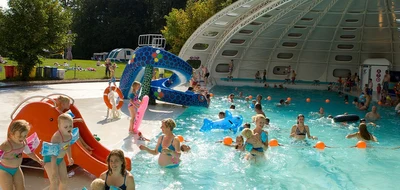 add_circle
Luxembourg, also called Little Switzerland
add_circle
Heated indoor and outdoor swimming pool
add_circle
Excellent facilities
add_circle
Beautiful surroundings with castles
done
June 22 -
7 nights,
2 adults
done
June 22 -
7 nights,
2 adults
14
accommodation types available
Camping Holidays In Luxembourg
You'll find nature in abundance when camping in Luxembourg with us, as our handpicked resorts occupy fantastic locations in the heart of the nation. The landscapes around our destinations are perfect for a whole host of outdoor activities. You'll be treated to a great range of facilities as well, meaning you can remain onsite for the duration of your stay and enjoy a rewarding and relaxing holiday.
Our best campsites in Luxembourg
The five star resort of Krounebierg, located in the green heart of the country, offers a family friendly camping destination with plenty to do for kids and adults alike. Compact and cosy, the resort features a little pool for children and access to a large indoor swimming pool. Adults will enjoy the wellness spa with sauna and Jacuzzi bath, and can spend time here while the kids have fun at the lively Children's Club. The fantastic location of the resort, less than 30 minutes from the capital, gives you the freedom to explore both rural and urban spots with ease.
Five star Fuussekaul lies in one of the most scenic spots in the Grand Duchy of Luxembourg's landscape, close to the spectacular lake of Upper-Sûre. Boasting first rate facilities and amenities, along with plenty of sporting activities, the site is a winner with families. You are well placed to explore the gorgeous nature around the campsite as well as popping over the border into either Belgium or Germany.
Things to do in while camping in Luxembourg
It's easy to explore the gorgeous landscapes of Luxembourg on foot as the country is packed with many hiking trails that will surprise you at every twist and turn. Amble through green valleys, along beautiful rivers and under the gaze of rocky gorges. The Mullerthal Trail, Escapardenne and NaturWanterPark rank among the best in northern Europe.
A whole host of beautiful nature reserves are doted throughout the countryside, and reward visitors with lovely walks filled with flora and fauna. We recommend a visit to Beetebuerger Bësch, Brucherbierg, Lallengerbierg or Ellergronn.
The kids will likely appreciated something a little more enthralling than gentle hiking through the wild, so they'll be glad to know there is plenty of sporting and recreational acitivities on offer in Luxembourg. Kayaking, canoeing, windsurfing, water skiing and fishing are possible on one of the many lakes. The abundance of forestry means that there are plenty of woodland adventure parks with climbing and zip lining.
Numerous castles burst from the ground and the most awe-inspiring among them are Bourscheid Castle, Vianden Castle and Esch-Sur-Sûre Castle. For more culture, visit one of the many insightful and interesting museums. Pick of the bunch are the National Museum of Military History, Fort Thungen and the National Museum of Natural History, all of which can be found in the capital.
The self-titled capital is home to several fine places to eat and great places to shop. In terms of sightseeing, the city's most notable attractions are the Adolphe Bridge, Casemates du Bock, Grand Ducal Palace, Vianden Castle and Cathédrale Notre-Dame.
With plenty of things to do in both the beautiful natural landscapes and hip capital city, camping holidays in Luxembourg are ideal for everyone.
Camping in Luxembourg: an ideal destination to combine nature and fascinating culture
Luxembourg offers all the ingredients for a successful holiday. This small European country has a generous amount nature, with dense woods, cliffs and wild rivers decorating the landscape. A country long steeped in history, as evidenced by its many medieval castles and its unmissable capital, Luxembourg is as charming as it is fascinating.
Our campsites are located in the midst of nature, which will guarantee you a stay under the sign of relaxation, freedom and discovery. With quality facilities, comfortable accommodation and leisure facilities, it's easy to make the most of your camping holiday in Luxembourg.
Where to go camping in Luxembourg? Top 5 of the most beautiful regions to discover
Luxembourg is divided into 5 wonderful regions, each of which are worth visiting. As the country is so compact, you can easily explore them all from our campsites!
Camping in the north of Luxembourg
The north of the country is a wonderful mix of breath-taking nature that's ideal for outdoor activities.
Campsite in the heart of the Ardennes with their splendid natural spaces
Landscapes of dense forests, green hills and dazzling rivers welcome you to the Ardennes region! Traverse its pedestrian and cycle paths to appreciate its beauty, without forgetting to visit some of its many picturesque villages.
Camping in the Mullerthal, Luxembourg's little Switzerland
It is its hilly setting that earned it its nickname of Little Switzerland. Discover its majestic and mystical forests, dotted with surprising rock formations, and be sure not to miss its capital, Echternach, the oldest city in the country.
Camping in the south of Luxembourg
The south of Luxembourg offers places rich in history and traditions, with plenty to enchant you.
Camp near the capital to discover its captivating history
The city of Luxembourg will surprise you with its cultural richness as well as its friendliness. Discover the central Guillaume II square, the unmissable Chemin de la Corniche, the picturesque Grund district and the Pfaffenthal panoramic lift.
Camping in the Terres Rouges region with its incredible heritage
Taking its name from the bright red iron ore associated with it's past in iron and steel, the region boasts the industrial and railway park of Fond-de-Gras as well as bustling university towns.
Camping in Moselle, between nature and traditions
The Moselle is known for its river which marks the border with neighbouring Germany. It is also famous for its white grape vineyards that you can visit through scenic hikes around wine country.
Luxembourg: an ideal destination for all types of holidays
Choosing to go camping in Luxembourg will guarantee you an unforgettable holiday, thanks to exceptionally comfortable accommodation and great leisure facilities.
Camping for families with children
Your children will not be bored for a single second during a camping holiday in Luxembourg, where they can make new friends while splashing in the swimming pools of the Fuussekaul and Birkelt Village campsites, or enjoying the bouncy castles of Campsite Krounebierg.
Campsites with swimming pools
In the summer, the climate of Luxembourg can be very pleasant, so it's ideal that our campsites feature outdoor swimming pools for cooling off and enjoying a refreshing dip. The semi-covered swimming pool of the Birkelt Village campsite ensures swimming in all weathers.
5-star luxury campsites
All of our current camping destinations in Luxembourg are 5-star, offering you the chance to enjoy a luxury stays with first-rate facilities where comfort harmonizes with relaxation.
Our advice for an ideal camping holiday in Luxembourg
It's important to plan well before embarking on your trip to ensure you experience all the joys that camping in Luxembourg. Here are some useful FAQs:
When to go camping in Luxembourg
The months of June to September are the most pleasant to enjoy camping in Luxembourg, with a climate conducive to outdoor activities.
How much does it cost to go camping in Luxembourg ?
The prices for 7 nights camping in Luxembourg varies between around €300 in June at Campsite Krounebierg and around €540 in September at Campsite Birkelt Village.
What type of camping accommodation is available in Luxembourg?
You will have the choice between comfortable mobile homes of different sizes at all our campsites in Luxembourg, as well as equipped safari tents at Campsite Fuussekaul.
What is the most romantic campsite in Luxembourg ?
Campsite Fuussekaul, with its comfortable safari tents and its oasis of well-being, is ideal for a romantic holiday in Luxembourg.
What is the closest campsite to the capital city ?
The Krounebierg and Birkelt Village campsites are the closest to the capital, both about twenty minutes away by car.
What is the best campsite with a swimming pool in Luxembourg ?
If you love large swimming pools, then you will love Campsite Birkelt Village which has fabulous aquatic facilities.
Which campsites in Luxembourg accept dogs ?
Krounebierg is a dog-friendly campsite in Luxembourg.
Which cities should I visit in Luxembourg?
The capital Luxembourg, but also Schengen, Echternach, Vianden and Clervaux, are must-see cities in Luxembourg.
What to do in Luxembourg ?
Some of the best sightseeing options in Luxembourg include Vianden castle, the European Museum of Schengen, Escher Déierepark animal park and the fascinating crystalline rock formations of Kallektuffquell.
What to eat in Luxembourg ?
Bouneschlupp (bacon soup), judd mat Gaardebounen (smoked pork), and rieslingspaschtéit (traditional meat pie), are typical dishes worth trying while enjoying a holiday in Luxembourg.
How to get around in Luxembourg ?
The good news about travelling around the county is that public transport is free in Luxembourg, even for tourists! So you can use trains, buses and trams without spending a penny. If you yearn for more freedom, then opt for renting a car.
Discover Luxembourg's neighbours...
Finally, if you want to take advantage of your holiday destination to tour the countries bordering Luxembourg, you will find what you are looking for among our campsites in Germany or Holland.