Campings Auvergne
Marked by sweeping green valleys, beautiful lakes, vast stretches of forest and dormant volcanoes, Auvergne can stake its claim as one of France's best regions for a camping holiday. Venture into stunning landscapes to seek out exciting outdoor activities or relax in the ambient natural surroundings, the choice is yours.
Book a stay at one of our campsites in Auvergne and be treated to wonderful swimming pools, great dining and shopping options as well as fantastic recreational amenities and vibrant clubs for children. You'll rest well in your spacious and inviting accommodation, surrounded by the calming sounds of nature.
Read more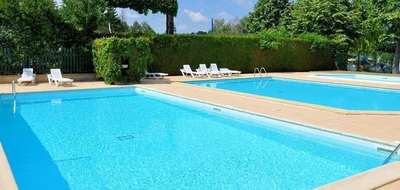 add_circle
In the heart of the Volcanoes Natural Park
add_circle
Far-West atmosphere
add_circle
Sports and family activities
add_circle
sA 35 km from Vulcania
done
June 22 -
7 nights,
2 adults
done
June 22 -
7 nights,
2 adults
1
accommodation types available
Book with confidence
done
1000+ Campsites and Holiday Parks
done
Lowest Price Guarantee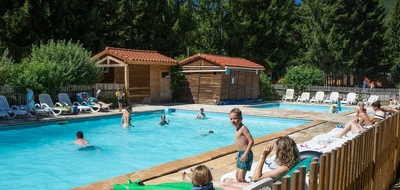 add_circle
Location in a valley with many ancient volcanoes
add_circle
Nice family campground
add_circle
Heated swimming pools
add_circle
Paddling, building dams or fising on the river
done
June 22 -
7 nights,
2 adults
done
June 22 -
7 nights,
2 adults
1
accommodation types available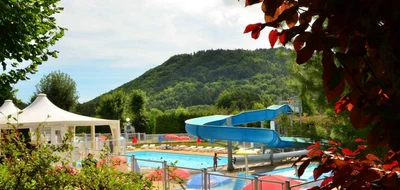 add_circle
Amid green hills
add_circle
Fine swimming pool with nice slide
add_circle
Sports and games
add_circle
Water fun in the lake of Chambon
done
June 22 -
7 nights,
2 adults
done
June 22 -
7 nights,
2 adults
2
accommodation types available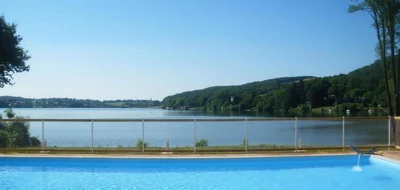 add_circle
Idyllic setting with direct access to the lake
add_circle
A simple pool with a beautiful view
add_circle
Day and night entertainment
add_circle
Activities such as paddle, fishing and pedalos on the lake
done
June 22 -
7 nights,
2 adults
done
June 22 -
7 nights,
2 adults
5
accommodation types available
Camping Holidays In Auvergne
You'll have the chance to mix adventurous outdoor pursuits with relaxing moments when you go camping in Auvergne. Our destinations melt effortlessly into the landscapes of the region, giving you a true sense of open-air holiday escapism.
What To Expect From Our Campsites In Auvergne
On your arrival at one of our top campsites in Auvergne, you'll immediately feel the refreshing air and sense the peaceful atmosphere of the region. The friendly and knowledgeable staff will check you in and offer any help should you need it.
After checking in, you'll make your way to the accommodation that proudly sits in green and spacious emplacements offering comfort and privacy. The interior will showcase generously sized living spaces, a range of useful amenities and facilities.
Once you've settled into your lodgings, it's time for your holiday to begin! Venture into the heart of the resorts to find all the fantastic recreational facilities on offer such as sports grounds, swimming pools and kids clubs, as well as our onsite dining and shopping establishments.
We hope to welcome you soon at one of our Auvergne campsites, where you can enjoy an invigorating or relaxing retreat in the heart of nature.
Things to do when camping in Auvergne
The true essence of a camping holiday in Auvergne is getting away from the hustle and bustle of daily life. You can slow the pace right down, freely enjoy your passions and embrace the wonderful outdoors. There's opportunity to try new things and explore new frontiers.
In Auvergne, you don't have to find outdoor activities… outdoor activities find you. The natural landscapes are primed for adventures into the wilderness. Whether you are exploring the Cantal Mountains, the sleeping volcanoes of Puy de Dôme or the enchanting forest of Troncais, you can enjoy hiking, paragliding, biking, canyoning and so much more.
As we have already mentioned, the region is home to dormant and inactive volcanoes that have helped shaped the scenic landscapes of today. The striking Puy de Sancy offers amazing vistas from its summit while Puy de Dome features a panoramic train rides that snakes up the mountain. The aptly named Vulcania theme park gives children and adults alike an educational and entertaining insight into volcanoes that erupts into a seismic amount of fun.
Get a sense of the rural and rustic lifestyle of Auvergne with a visit to the towns and villages of Saint Floret, Montpeyroux, Murol, Ruynes, Margeride and Salers. You'll find quaint streets, nice architecture and lovely restaurants serving up seasonal dishes.
Other notable tourist attractions in the region include Le Pal Theme Park & Zoo, the Basilica of Notre-Dame du Port, the scenic walking trails of Lake Chambon, the gushing waters and verdant foliage of Gorges De La Jordanne and the beautiful Château de Polignac.