Camping Narbonne-Plage
Boasting over 300 days of sunshine each year, Narbonne-Plage is a dream destination of the historical Languedoc-Roussillon region of France that features unspoiled nature and gorgeous Blue Flag beaches. Book a camping holiday in Narbonne-Plage, located in the Aude department of Occitanie, and you'll experience an open-air escape with the chance to mix recreation and relaxation by the sea.
Read more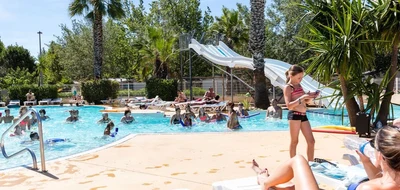 add_circle
Located 900m from Montilles beach
add_circle
A family swimming pool complex 2
add_circle
2 slides, heated pool and paddling pool
add_circle
Fun facilities and sports activities
done
June 22 -
7 nights,
2 adults
done
June 22 -
7 nights,
2 adults
18
accommodation types available
Book with confidence
done
1000+ Campsites and Holiday Parks
done
Lowest Price Guarantee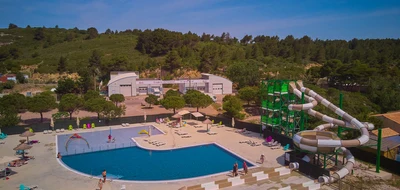 add_circle
300 metres from the beach
add_circle
Sun, sea and beach
add_circle
Mini club, petanque and playground
done
June 22 -
7 nights,
2 adults
done
June 22 -
7 nights,
2 adults
22
accommodation types available add_circle
At 500 meters from the beach
add_circle
Heated outdoor pool
add_circle
Animation for all ages
done
June 22 -
7 nights,
2 adults
done
June 22 -
7 nights,
2 adults
2
accommodation types available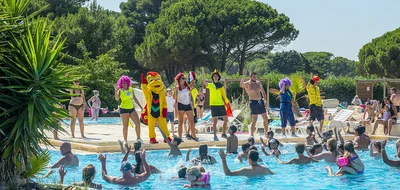 add_circle
500 metres from the beach
add_circle
Different activities available
add_circle
Swimming pools and ludic children's pool
add_circle
Lots of entertainment for young and old
done
June 22 -
7 nights,
2 adults
done
June 22 -
7 nights,
2 adults
8
accommodation types available
Camping holidays in Narbonne-Plage
This picturesque seaside resort has a good selection of things to see and do, with enough to fill a fun holiday in the sun with the whole family. Take advantage of the coastal setting to play on the white sand beaches and pristine waters of the Mediterranean Sea, or bask under the warm rays of the generous sun. Enjoy stunning views of the landscapes around the region from the elevated trails of the beautiful La Clape massif rocky plateau.
With a camping holiday in Narbonne-Plage, you can look forward to a truly memorable escape into the heart coastal nature.
What are our best campsites in Narbonne-Plage?
A fantastic coastal camping holiday in sunny Languedoc-Roussillon awaits you at 4* Campsite Falaise Narbonne-Plage, a serene and relaxing resort that's perfect for families. Guests will relish the idyllic location by a sun-drenched Mediterranean beach and the site's fantastic pool complex.
Aside from the wonderful swimming pool, there are plenty of other recreational amenities to enjoy at the resort include a playground, petanque pitch and table tennis area. Families can enjoy sociable meals in the restaurant, refreshing drinks from the bar and takeaway options from the pizzeria. The choice of accommodation at the campsite is very good and includes spacious mobiles homes and well-equipped tents.
Although not directly in Narbonne-Plage, we have several other campsites close to the seaside resort that are excellent options for holidaying in the region. For more information, have a browse at these brilliant destinations: Campsite Ensoya, Campsite Novela Port La Nouvelle, 5* Campsite Domaine La Yole and 4* Campsite Mas des Lavandes.
What are the best things to do while camping in Narbonne-Plage?
Book your holiday to Narbonne-Plage and look forward to basking under the Mediterranean sun on the resort's stunning beaches. Make a splash in the refreshing waters that gentle lap the shores, build majestic sandcastles and seek out a variety of aquatic activities at one of the local water sports providers.
Hvis du booker et ophold på en af vores campingpladser ved Gardasøen, kan du forkæle dig med en række udendørs aktiviteter, herunder vandsport og vandreture, mens du nyder muligheden for at tage interessante ture til Verona eller Milano. Vingårde ligger i de rullende bakker i Toscana, hvor betagende landskab adskiller de fortryllende byer Sienna, Firenze og Pisa. Tilbring en dag med at nyde seværdighederne i det skæve tårn, Uffizi-galleriet og meget mere, før du spiser hos et overdådig regionalt køkken.
Swap the yellows and blues of the seaside around Narbonne-Plage for the greens and browns of the Massif de la Clape, a place of natural beauty where visitors can enjoy views while hiking. In the Narbonnaise en Méditerranée Natural Regional, day trippers can stroll through a natural beautiful park coloured with lush flowers and verdant vegetation.