Camping Passy
Situated within the Rhone-Alpes region, in the department of Haute-Savoie, Passy finds itself set within the beating hearting of a vibrant nature reserve. A countryside camping holiday in this charming town provides you with the opportunity to explore the enchantment of rural France. Famed throughout the country as winter destination, there is more than enough to thrill visitors who holiday here in spring, summer and autumn.
Read more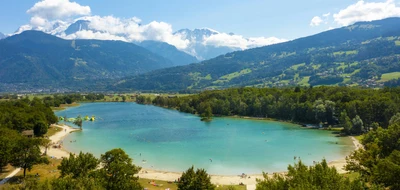 add_circle
Directly on the lake
add_circle
Family Campsite
add_circle
Swimming in the lake
add_circle
Ideal for water lovers
done
June 18 -
7 nights,
2 adults
done
June 18 -
7 nights,
2 adults
11
accommodation types available
Camping holidays in Passy
Elevate your next holiday with a stay in Passy, a terrific destination located in Alpine mountains close to a series of stunning lakes such as Lac d'Anterne, Lac Vert and Lac de Pormenaz. Rewarding you with beautiful vistas at every turn of the road, the local area is blessed with landscapes that capture the imagination of active holidaymakers.
What are our best campsites in Passy?
Our most popular destination in Passy, Campsite Les Iles has a family-friendly atmosphere where visitors can fill their lungs with bracing fresh air and appreciate gorgeous views of Mont Blanc and the stunning blues waters of Lake Passy. A peaceful stay is ensured at the campsite, as is the chance the explore the bucolic bliss of Haute Savoie.
The top feature of the resort is location, and with it, the chance to enjoy all kinds of outdoor activities just a stone's throw from your accommodation. Within the site, campers will have access to ping-pong table and a petanque pitch, while kids flock to the games room to play pinball, table football and arcade games. Family-friendly activities in the local area include go-karting, mini golf, tree climbing, paragliding, archery and much more.
A pizzeria, restaurant with takeout option and a bar serving drinks and snacks is available to holidaymakers, ensuring you have everything you need close by for a convenient stay. Comfort is ensured within your choice of accommodation, whether you opt for a stay in one of our modern mobile homes or well-equipped and spacious lodges.
For a similar camping experience in the region, consider a stay at one of our other campsites perched by the inviting waters of a lake. You'll find serenity and scenery in abundance at 4-star camping L'ideal near Lake Annecy and Saint Disdille on the sparkling shores of Lake Geneva.
What are the best things to do while camping in Passy?
The majority of campers who elect to stay in Passy for their next holiday do so due to the town's awesome landscapes, where they can enjoy picturesque strolls, exciting cycling excursions and amazing aquatic activities in the region's lovely lakes. Whatever your preference, you're sure to discover it in Passy.
A highlight of the local area, the lakes around Passy are blissfully beautiful and are a great place to enjoy walking, hiking and cycling trips. Appreciate the picturesque landscapes around the shores of Lake Vert, as well as the stunning green waters of the lakes itself. Equally scenic is Lac de Pormenaz, a striking alpine lake located in the Passy National Nature Preserve.
A great family day out, a ride on the Mont Blanc tramway will take you on a mountain trip to remember, punctuated by gorgeous vistas of the beautiful alpine landscapes. Holding the accolade as France's highest railway line, the Mont Blanc tramway is a must-do activity during your camping holiday in Passy.
Even the town is famed as a winter destination, campers can take to the slopes in summer at the Ski Indoor 4810 centre, which is a great day out for families with kids. For holidaymakers who like to include some historical and cultural attractions on their sightseeing itineraries, check out the Our Lady of All Grace church, along with the Maison forte de Hautetour museum in the nearby town of Saint Gervais les Bains.