Camping Thonon les bains
Situated in the department of Haute-Savoie, right on the shores of Lake Geneva, Thonon-les-Bains is a picturesque spa town that lies between the lake and dramatic mountains. A truly relaxing holiday destination, the town is a great place for escapism in Rhône-Alpes, where holidaymakers can enjoy the exploring charming countryside, water sports and discovering the region's history and heritage.
Read more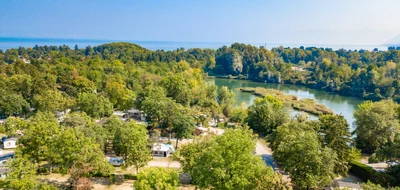 add_circle
Camping 200 meters from Lake Geneva
add_circle
Cosy family campsite
add_circle
One of the most beautiful beaches on the lake
add_circle
Many facilities
done
May 25 -
7 nights,
2 adults
done
May 25 -
7 nights,
2 adults
2
accommodation types available
Camping holidays in Thonon-les-Bains
What are our best campsites in Thonon-les-Bains?
Occupying a scenic stretch of shoreline on Lake Geneva, a short distance from the town, our best campsite in Thonon-les-Bains is Saint Disdille. A great destination for either family escapes, trips with friends or breaks with loved ones, the site has everything required for a relaxing yet recreational outdoor holiday in Haute-Savoie.
The ethos of a camping holiday at Saint Disdille is to enjoy the fun and freedom of the outdoors, whether you want to unwind in nature or get active. The site has plenty of things to do, including sports such as football, tennis and basketball, while the location means it's easy to try some water sports.
The site is perfect for camping trips with the entire family, and little ones will especially love their time here. Along with an outdoor playground and inflatables, youngsters can enrol in the lively Kid's Club hosted onsite. BBQ parties, sports tournaments, selfie rallies, sumo wrestling and offsite excursions are open to teenagers.
There are several facilities for dining and shopping at the campsite, such as a restaurant with takeaway options, along with a shop that's well stocked with daily essentials and local produce.
Saint Disdille comes up trumps in terms of accommodation options, as the site features spacious mobile homes that are nestled in serene and private emplacements.
What are the best things to do while camping in Thonon-les-Bains?
Given the close proximity of the town to Lake Geneva, it's easy to enjoy several water based activities during your camping holiday in Thonon-les-Bains. As well as idling on the nearby pebble beach, campers can enjoy a range of aquatic activities including stand up paddle boarding, kayaking, windsurfing, pedal boating and much more.
Holidaymakers who enjoy learning about the history and culture of their destination will find plenty to see and do in the town, including a series of interesting castles. Showcasing fine architecture and insightful history, the best castles in and around Thonon-les-Bains include Château de Ripaille, Château de Sonnaz, Château de Montjoux, Château de Rives and Château De Marclaz.
Other sightseeing spots sure to pique your interest from a historical viewpoint include the Museum of the Chablais, the Eco Museum of Fishing & The Lake, Saint-François-de-Sales Church, Chapelle de Concise and the Evian Experience museum.
If you are longing to escape from the hustle and bustle of daily life, we recommend setting some time aside for a trip to Ripaille Forest, where you can wander and wonder through an area of natural beauty. And on the other hand, if you crave the vibrancy of the big city, you can head over to Geneva for amazing shopping and dining experiences, along with visits to notable attractions such as Palais des Nations, St Pierre Cathedral, the Geneva Water Fountain and the International Museum of the Red Cross and Red Crescent.